Isola Bituminous Shingle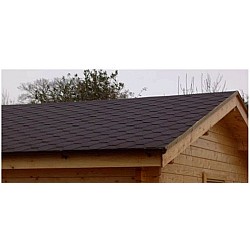 Please wait... Loading....
Please wait... Loading....
Product Information
Isola Roofing shingles, with their glass felt core and when laid on a solid wooden roof, provide a reliable, functional roof for several decades! The combination of glass felt and thick, flexible bitumen produces a product that is both strong and flexible. An advanced adhesive system provides long-term adhesion. This product has strong adhesive areas that provide a reliable seal and a storm-proof roof. The shingles do not absorb moisture and remain unaffected by the wind and weather - year after year.

Easy to transport – easy to lay.
- Can be laid straight onto a solid wooden roof or an old underlay consisting of a roof covering or shingles
- Simple installation
- No foil to pull off
- Strong adhesive areas, providing a reliable seal and storm-proof roof
- Many pattern and colour options

Connected adhesive areas with a special adhesive over the whole width of the shingle provide an immedeate and enduring secure adhesion. Defined nailpoints guarantee optimal attachment and sealing. Due to these unique adhesive areas Isola roofing shingles came off as the winner in rain tightness and storm resistance.

Roofing shingles are coated with fine silan sand on the backside. Unlike normal sand it provides a barrier against humidity and prevents the ingress of moisture.