Decorative Self Adhesive Lead Strips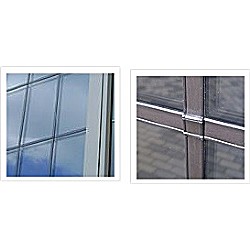 Please wait... Loading....
Please wait... Loading....
Product Information

With a wide range of colours and widths our lead profiles give so many creative options for doors, windows, cabinets and craft applications in both interior and exterior locations.

Natural Lead

RegaLead Natural Lead is a high performance self adhesive lead strip manufactured under procedures and specifications laid down in ISO 9002 by RegaLead. The products are designed for permanent application to decorative interior or exterior glass surfaces in both single and double glazed unit applications.


Natural Natural



In addition to our natural lead we offer a wide range of pre-coloured/ coated lead profiles which in addition to widening the design opportunities also add extra protection to the base lead metal from the effects of weathering.

Electrophoretic Coated Leads

For over a decade we have been at the forefront of the use of electro-phoretic coatings for lead and have developed our own unique production technology which gives a clean, even and fine to the lead surface. These coatings have been tested to the rigorous ASTM G154-00 accelerated weathering test and are suitable for exterior use. The range of colours has been increased over the years and now includes Antique, platinum, ebony and brass. In addition to the standard gloss finish we also offer Antique and Brass in a satinised finish.


Brass Brass AntiqueAntique Platinum Platinum Ebony Ebony Satin Antique Satin Brass Satin BrassSatin Antique




Polyester Powder Coated Leads

Over the past few years we have been striving to improve the range of colours and finishes available to the market particularly for the furniture market and have developed a polyester powder coating production line which went into full production in mid 2009. The new colours available in this range are White and Gold and the hammered effect unique Antique Iron and Copper effect profiles. The powder coated materials offer improved resistance to scratching but are not guaranteed for exterior use.

WhiteWhite IronAntique Iron CopperAntique Copper GoldChrome GoldGold

Our Self adhesive profiles are made with 99.5% pure lead which is modified with a small amount of antimony to improve its weathering performance and surface polish .A high performance, acrylic, pressure sensitive adhesive ensures a long life span in both single glazing and in double glazed units. All our products are manufactured to ISO 9001:2 quality standards and have been tested in units complying with the European standard EN1279. Our coated lead products have been fully weather and age tested to the ASTM-G53-96 standards.

A high performance acrylic, pressure sensitive adhesive ensures a long life span in both single and double glazed units. Products are manufactured to ISO9001:2 quality standards and have been successfully tested in units complying to EN1279.